Make the most of the long summer days with a delicious picnic and Stobi Syrah
---
Posted on Tue 8th Aug 2017 at 10:22
---
---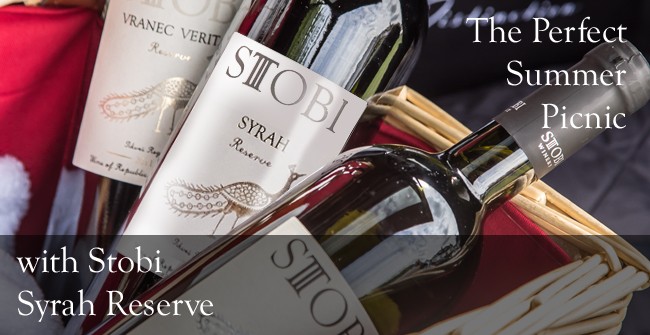 ---
School's out for summer! This means long light evenings, lots of fun family events and hundreds of opportunities to kick back and relax.
---
One of the best things about the British summer is that a lot of the events, be that outdoor concerts, equestrian events or fairs and festivals of all shapes and sizes, are self catering. There are so many positives to this: not only can you decide exactly what you want to eat and how much you want to spend, but it's also a great opportunity to show off your culinary prowess to family and friends. Or the people on the adjacent picnic blanket, for that matter!
The key to clever picnicking is the preparation: a few organised hours at home can save you heaps of stress and mess at your destination. Make all your dishes in advance, or at least group all their constituent parts in a way that enables easy assembly, and you're sure to impress.
One dish that's really easy to prepare in advance, not to mention delicious, is this Greek lamb pitta recipe from Waitrose. Reminiscent of those carefree Greek summer holidays, it's a wonderful way to revisit fond memories and enjoy a taste of the sun. All you have to do before you go is cook the meatballs, pre-slice the pittas and put all the sliced salad ingredients together in a dish: απλός! (That's Greek for simple - we think!)
We recommend pairing these tasty lamb pittas with our Stobi Syrah, a richly coloured wine with deep red fruit flavours and a twist of spice. Its full body and refined tannins make it a great pairing with red meats such as this lamb, not to mention other picnic favourites such as beef skewers, a variety of cheeses and venison sausage rolls. This can be bought at Waitrose or good stockists.
If you're looking for other additions to your picnic basket, the Waitrose website is full of super ideas. Check out recipes such as beef salsa verde salad, summer slaw or black bean and sweetcorn salad, for example, for great additions to your pittas and wine.
http://www.waitrose.com/content/waitrose/en/home/recipes/recipe_directory/g/greek-lamb-pittas.html
http://www.waitrose.com/content/waitrose/en/home/recipes/recipe_directory/b/beef-salsa-verdesalad.html
http://www.waitrose.com/content/waitrose/en/home/recipes/recipe_directory/s/summer-slaw.html
http://www.waitrose.com/content/waitrose/en/home/recipes/recipe_directory/b/black-bean-sweetcornsalad.html

---