Winning Wines - Macedonia
---
Posted on Tue 22nd May 2018 at 08:54
---
---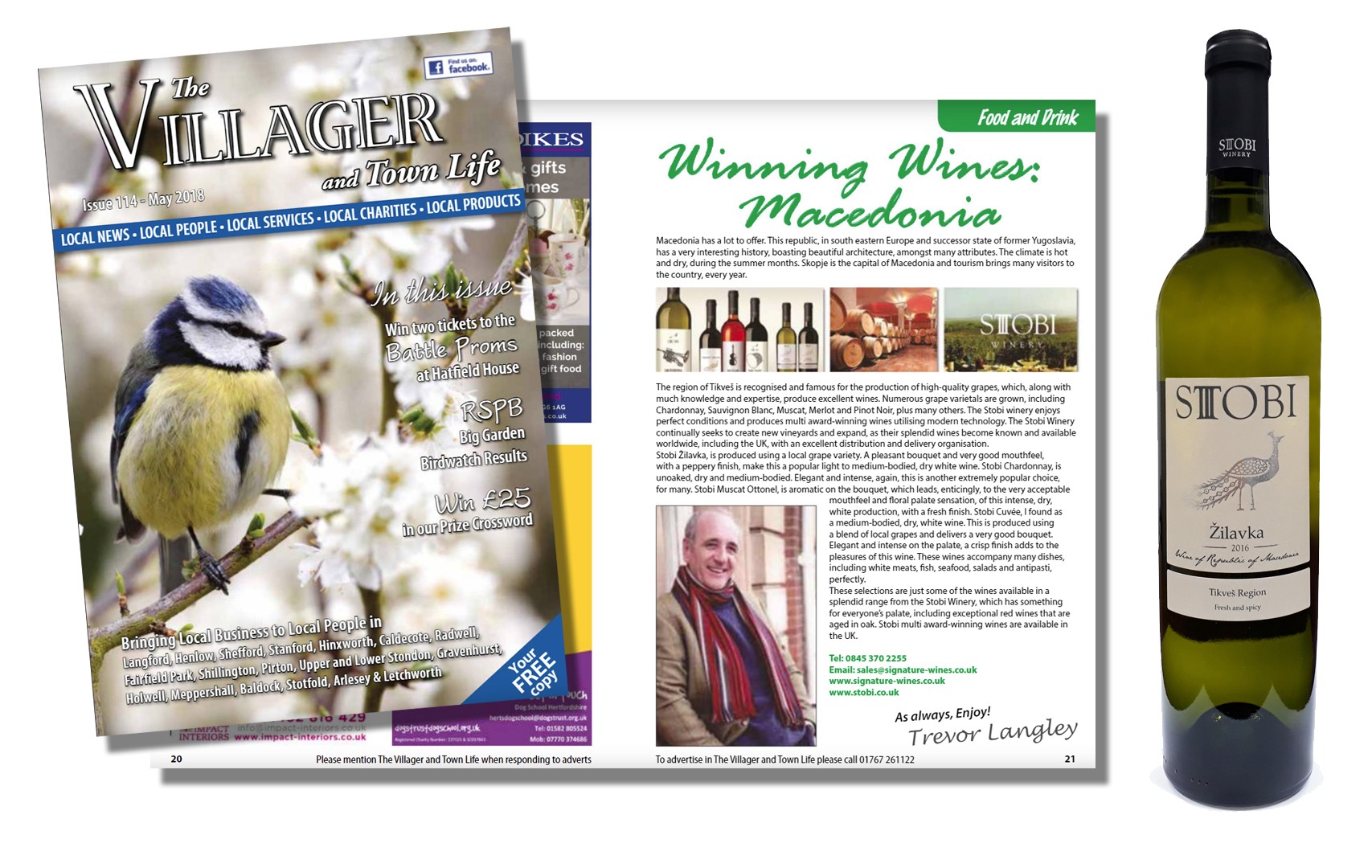 ---
We are pleased to share the news that the Stobi Muscat Ottonel and Žilavka have been featured in an article by Trevor Langley in a series of local country magazines including The Villager and Town Life.
---
In his article, Trevor applauds the famous Tikveš wine making region of Macedonia which produces high 'quality' grapes and 'excellent wines'. He describes as follows, 'The Stobi Winery enjoys perfect conditions and produces multi-award winning wines utilising modern technology. The Stobi Winery continues to create new vineyards and expand, as their splendid wines become known and available worldwide, including the UK, with an excellent distribution and delivery organisation.'
One the Stobi Muscat Ottonal, is aromatic on the bouquet, which leads enticingly, to the very acceptable mouthfeel and floral palate sensation, of this intense, dry, white production, with a fresh finish.
On the Stobi Žilavka Trveor comments, 'A pleasant bouquet and very good mouthfeel, with a peppery finish, make this a popular light to medium bodied, dry white wine.
On the Stobi Chardonnay; un-oaked, dry and medium bodied. Elegant and intense again, this is another extremely popular choice for many.
And finally on the Stobi Cuvée; a medium-bodied, dry white wine. This is produced using a blend of local grapes and delivers a very good bouquet. Elegant and intense on the palate, a crisp finish adds to the pleasure of this wine.
He concludes by advising that the wines accompany many dishes, including white meats, fish, seafood, salads and antipasti perfectly.'
---