Wonder of Wine Latest Review on our Macedonian Stobi Vranec 2013
---
Posted on Mon 5th Jun 2017 at 10:18
---
---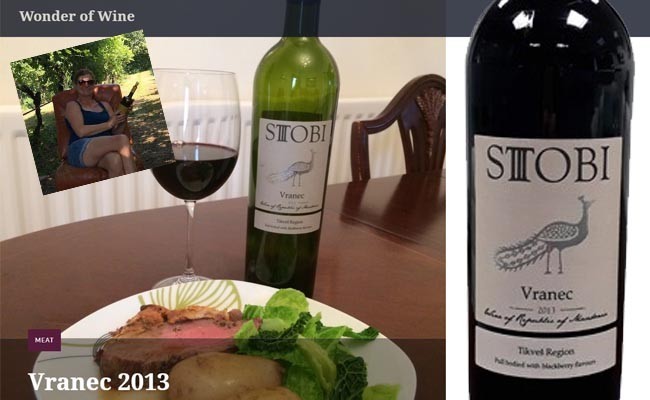 ---
Dawn, wine and food blogger from the Wonder of Wine, has been trying out a few of our distinctive Macedonian wines over the past few months and has now wrapped her taste buds around our award winning Classic Stobi Vranec, the king of the reds in the Balkans.
---
Our Stobi Vranec red wine deserves a dish to match the quality and prestige of this wine and so Dawn's choice of a Beef Wellington we think was spot on, served at a dinner party, this wine impressed, so we were delighted when Dawn blogged about the wine saying "I was amazed at this truly versatile wine."
Read Dawn's full blog and you'll see more comments than we can feature here, including "The colour is a strikingly beautiful deep ruby with a purple, inky hue" and "In the glass, the nose was black fruit, mainly black currant and black cherry but there was also the sweet smell of crushed raspberries coming through" and "The aromas were mouth-watering and delicious".
Dawn's top tip – Let it breath for 24 hours – "The wine was divine. It had benefited from spending 24 hours in the decanter. The black fruit was wonderful and the length on the palate was fabulous."
Read Dawn's full blog here.

This wine can be bought at the following stores:
Carruthers & Kent

Hennings Wine Pulborough
Tanners Wines
Flagship Wines

Turton Wines
Wine Rack

---